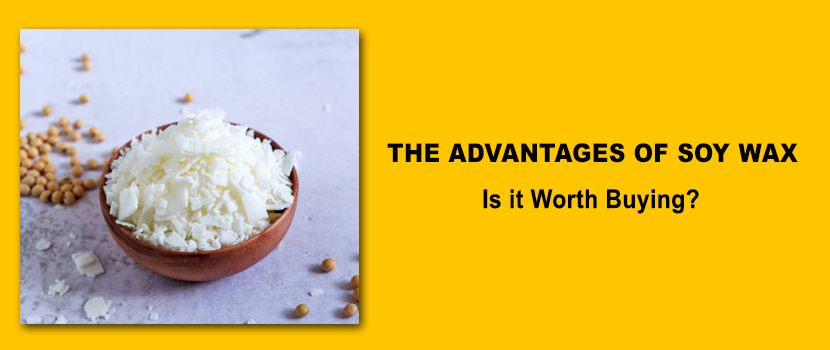 When we go shopping for buying candles and waxes, the very first thing that should be evaluated is the aroma. Candles and waxes are formulated with different types of waxes. Soy wax, paraffin wax, granulated wax, and palm wax are some notable varieties. Each of them has distinct properties, performance and aromas. Among all the wax types we mentioned, soy wax is a very special one.
Now, what is Soy Wax? As the name implies, soy wax is a very special type of natural wax that is made from the extract of soybeans. Soybeans are one of the most cultivated vegetables in India. To make soybean wax, the soybeans get cleaned, crushed, de-hulled, and then processed into flakes. Soybean oil and wax are extracted from the flakes and the rest is used as animal feed.
In comparison to paraffin wax, wax is an incredible choice. This is because soy wax is renewable, eco-friendly, and causes no harm to nature. It lasts longer and does not cause bad our after burning. Soy wax has a natural fragrance so it does not need any chemical additives to be corrected. As a result, you can get candles with a pure organic aromatic scent.
So all these make soy wax the most preferred wax product among all. If you still are doubtful, keep reading this article. This is because, in the next part of this article, we will discuss why soy wax is considered to be the best of all. You can get a wide range of soy wax from any reputed soy wax exporter.
Pure Vegan
The very first advantage of using soy wax is that it is completely vegan. Since soy wax is made from soybeans, it is 100% vegan. In comparison to other wax alternatives, soy wax is a more reliable option since it is made from plant extracts. Additionally, soy wax is not tested on animals too. This makes soy wax a worthy option for those who are completely vegetarian.
Less Pollution
Another major benefit of soy wax is none other than its capacity to offer less pollution. Since soy wax is made with soybeans, it is free from any toxins, additives and chemicals. So when you burn them, there would be less chance of any pollution. They don't create any bad odor, carcinogenic elements like paraffin wax, or any other harmful elements. Lighting soy wax is a much safer and healthier option.
Biodegradable
Soy wax is 100% biodegradable as it contains soybeans. Therefore, it does not harm nature. The disposal of soy wax is very easy and safe as it is water soluble too. Paraffin wax is animal and chemical based and it creates carcinogenic elements too while burning. But soy wax is sustainable and kinder to our planner as it creates such harmful elements. You can get a broad range of soy wax from any well-known soy wax exporter.
Lasts Long
Many of us don't know that soy wax possesses a lower melting point than paraffin wax. It means soy wax can last longer than traditional waxes. It can save money too as a soy candle can last up to many days. So you can enjoy your favorite scent for a longer time.
So, these are the main advantages of soy wax. So, replace the conventional waxes with soy wax and get the convenience of all the advantages we cited above